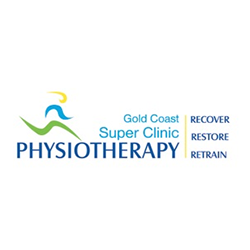 FIND the team on FACEBOOK
Physiotherapy is a locally owned evidence based physiotherapy practice that
is focused on your health. With clinics located on the Northern Gold Coast
at two convenient locations at Oxenford and Hope Island, we are able to
offer our clients a wide range of professional healthcare services all under
the one roof. Our motto "Recover, Restore, Retrain" stems from our
philosophy in treating the cause of our client's problems. It's
important to us that we not only provided initial symptomatic relief, but
also ensure that you are back to full health before you leave our
professional care.
Gold Coast Super Clinic Physiotherapy is a locally owned evidence-based physiotherapy practice that is focused on your health. With clinics located on the Northern Gold Coast at two convenient locations at Oxenford and Hope Island, we are able to offer our clients a wide range of professional healthcare services all under the one roof. Our motto "Recover, Restore, Retrain" stems from our philosophy in treating the cause of our client's problems. It's important to us that we not only provided initial symptomatic relief, but also ensure that you are back to full health before you leave our professional care.
Ross Waldock - Director/Senior Physiotherapist
Ross started his career in the Remedial Massage + Rehabilitation fields and then progressed to become a qualified Acupuncturist for a period of 10 years, before completing his Physiotherapy/Exercise Science degrees. Ross has been privileged to work with local, state, National and International sporting sides and has gained experience with Rugby League, Basketball (Brisbane Bullets, Melbourne Tigers/United), Rugby Union (Qld Reds and Australian Wallabies), Australian Swimming + Triathlon and was fortunate to work with the USA Track and Field team before the Sydney Olympics in 2000.Ross Has worked in Brisbane, Cairns (within a specialised Spinal, TMJ (Jaw) and Headache Physiotherapy Clinic) and has settled on the Gold Coast, opening up Gold Coast Super Clinic Physiotherapy in 2013. Ross is also a level 3 qualified PILATES instructor. These opportunities have exposed him to diverse treatment protocols.
Ross has a strong interest in TMJ (Jaw), shoulder/back (Spinal) and sporting injuries. Ross believes in building a strong relationship with clients and other health professionals and looks forward to working with you to achieve your goals.
Natalie ST CLAIR - Physiotherapist
Natalie graduated from the Australian Catholic University, with highly esteemed marks attained in her Bachelor of Physiotherapy. Natalie is a professional and highly motivated clinician with a passion for helping people with pain and injury and her interests lie within musculoskeletal and sports physiotherapy, as well as rehabilitation and Women's Health. Accredited in Mat-Work Pilates allows her to integrate strength, balance and control to assist with client recovery. Natalie believes that a positive lifestyle stems from good health, and is committed in assisting clients in their journey to better health outcomes and wellbeing.
With a patient-centred focus, hands on approach and evidence-based practice, she provides an exceptional level of care for all clients and their conditions.
Natalie is an avid sports fan, and has been a Queensland Basketball player throughout her youth. She is an active part of the community and has been a volunteer lifesaver for many years. In her spare time, Natalie enjoys exploring the great outdoors and keeping fit through the gym and swimming.
Brendan McLEOD - Physiotherapist
Brendan graduated from Griffith University with a Master of Physiotherapy and a Bachelor of Exercise Science. He is very passionate about treating and managing musculoskeletal injuries within all populations using the latest evidence-based practices. He has experience with youth sporting teams while also completing research studies involving osteoporotic rehabilitation in the elderly. His interest in health has led him to completing Pilates workshops and a sports coaching certificate. Brendan also has had experience working with children and managing a range of developmental complications.
Brendan is meticulous about designing individual treatment programs to best support each of his clients around their own interests and helping them strive for healthier and pain free lifestyles. He is charismatic and focussed on building positive working relationships. Brendan is enthusiastic in all aspects of his life and enjoys going to the beach and working out at the gym.